E-commerce Software – Sana Commerce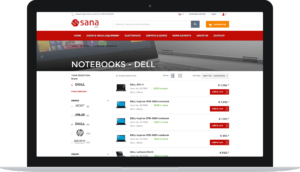 NaviWorld has partnered with E-Commerce Software, Sana Commerce, to support our strategic move to digital commerce by bringing a B2C e-commerce experience to B2B organizations. Together, we are helping organizations reach their growth targets through converting, mobile-optimized, and user-friendly web stores.
Its seamless integration with Microsoft Dynamics 365 Business Central allows us to build an e-commerce that is a perfect extension of your existing sales processes. Eliminating double handling – this e-commerce acts as your single source of truth and does the admin for you.
A Sana web store is not only beautiful, but its build to help drive new traffic to your website – expanding your reach and driving conversions through advanced online marketing functionalities.
Empower Customers
Quick Ordering
View & Pay Open Invoices Online
Online Access to Documents
Return Merchandise Authorization (RMA)
Simplified Setup & Ongoing Maintenance
Direct Out of the Box Integration
Multiple Stores, Brands, and Selling Models
Flexible and Extensible
Authorization / Roles and Rights
ERP Upgrade Policy
Better Buying Experience
Advanced Web Store Navigation and Product Catalogue Features
Customer Segments, Assortments, and Related Products
Dynamic Shopping Cart Calculation
Seamless Experience Across Devices
Inventory Management
The Benefits of Marketing
Marketing Web Pages with CMS
SEO and Site Map Generation
Email Marketing
Internationalization
The Benefits of Sales
Export to External Marketplaces
Represent a Customer
More information can be found in our resource library.
You can also view more videos on our Youtube Channel.